Sergey Leshchev presented a new song - "Yacht" and a video for it
The composition was written by him in June this year, during the forced self-isolation. When there was a lack of sea rest, walks with friends, travel and new emotions. Dreams of all this were reflected in the song, which the artist today is happy to share with the public.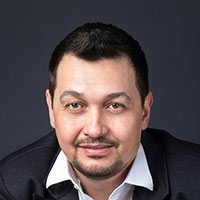 "There is no limit to the imaginations of a creative person. And sitting at home, I saw this picture: a warm sea, a rented yacht, close people nearby ... This is how a bright, positive song turned out, which calls for living today, now, in this second! Fear nothing. This virus and everything else confused us a little, many have lost their cheerful mood, and I would like to give them back inspiration, to help them endure all these terrible moments easier.
Of course, now all of us in this difficult situation do not have enough rest, travel, the sea, the sun, the rays of positive access to any country.
In the meantime, you can find yourself on the sea coast with the help of this composition: just close your eyes, listen and imagine how you are "flying over the horizon and no barriers", cutting through the waves, dolphins are swimming nearby on a yacht with your loved ones, dear friends. All this happens at sunset: the sun is no longer so yellow, but red ... And everything is still ahead! " - comments Sergey.
The arrangement and recording of the voice was done in the studio of German Popov. Sergey decided to release the song simultaneously with the video of the same name. The video was filmed in Sochi, directed by Petr Angelov. The artist himself recalls the filming with great pleasure:
"Emotions overwhelm me! We took a ride through the most beautiful places in Sochi. Of course, they rented a yacht, as the song says. We worked for two days in the beautiful locations of this sunny city. It was interesting and great! I never cease to be amazed at how Sochi is changing every year.
I want to say thank you for the excellent work of saxophonist Igor Chelara and a wonderful model - artist Valeria Chulkova, who brought a zest to this video - professional choreography.
I know many people who, in such a romantic way, made a marriage proposal to their soul mate - they rented a yacht and there, at sunset, they confessed their love, offered marriage. That's very beautiful! And I am glad that we reflected this beauty in the song and in the video. "
But this summer, the artist wrote more than one song. He also found time to create new projects, which we will soon get to know:
"I made several creative discoveries for myself. Now four songs are being prepared for release. One of them will be called "Theater". She, of course, is about experiences, about love. But not quite in the format usual for my work - with an unexpected ending. The composition will be powerful, beautiful, melodious, with some even classical chords. I want to catch the viewer's attention with the classics a little.
And then we'll see. The main thing is not to stop, not to lose heart, to believe only in good things and, of course, to take care of your health and those who are next to you. Put on masks, but in your soul open up completely, believe in good, kind, positive, and then the universe will open all the possibilities for you! "
Lyrics of Sergey Leshchev's song "Yacht"
Sea sand and rest for two weeks
Together with you, we just flew away
And a light breeze will delight in the morning
And the seagulls cry and the summer heat
Shine, dance and just enjoy
Love, kiss and give yourself up to rest
Dolphins swim astern
Wave your hand to them from the deck
I will rent a sailing yacht
The sea distance calls and beckons us to the sunset
We fly over the horizon and there are no obstacles
I will rent a sailing yacht
What a delight, what a miracle
Meet the sunrise at Bermuda latitude
Great weekend
And as always in the final happy ending
I will rent a sailing yacht
The sea distance calls and beckons us to the sunset
We fly over the horizon and there are no obstacles
I will rent a sailing yacht
I will rent a sailing yacht
The sea distance calls and beckons us to the sunset
We fly over the horizon and there are no obstacles
I will rent a sailing yacht