New song and video presented today Zagir Satyrov
As the artist said, the composition "My dunia" appeared in his head during a long trip.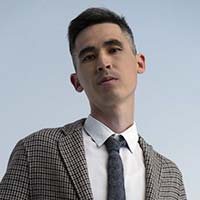 "I love the road in general, especially when I'm on my own. Many of my songs are born while driving, and in the studio they are being finalized. And this track also appeared. For my repertoire, modern style is something new and I hope the listeners enjoy this experiment. I plan to continue working in this direction, in parallel with the release of lezginka," says Zagir @zagir_satyrov.
The composition "My Dunia" was published together with a clip. "The director of the video is my brother Nuradin Satyrov, - says the performer, - by the way, he helped me not only with the video, but also with his ideas while working on the arrangement.
Today I am pleased to present a novelty to the audience! I wish you all a pleasant viewing and will look forward to your feedback! "
Lyrics of Zagira Satyrov's song "My dunia"
I wait for you with a new dawn
And with sadness I see the sunsets
I look into the distance at the horizon
Where are you, where
You wait for me where the new day is
Greets the dawn, but I'm not there
I wait for you where the shadow falls
But you are not there
Just know
You are my paradise
Every moment that we were together
I believe in love that burned with fire
To heaven on earth, where you were in it
Yes without you
How am I going crazy
You are my dunia, my love
Where are you where
You are my dunia
How i love you
Only you are mine
You are my dunya
You are my dunia
How i love you
Only you are mine
You are my dunya
There is pain in my heart, longing in my soul
You are not mine, you are not mine
Everything burns inside me
I'm dying.
Nothing can be changed
Where to get the strength to forget
How not to stop loving you
You are my dunia
I burn to the ground without you
I live without breathing you
You are my life
Yes without you
How am I going crazy
You are my dunia, my love
Where are you where
You are my dunia
How i love you
Only you are mine
You are my dunya
You are my dunia
How i love you
Only you are mine
You are my dunya
You are my dunia
How i love you
Only you are mine
You are my dunya
You are my dunia
How i love you
Only you are mine
You are my dunya