She presented a new song and video clip Zulfiya Chotchaeva
According to the artist, "I will not follow you" is a project that reveals the versatility of her creative role: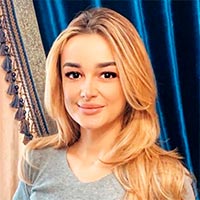 "Usually Islam and I perform funny, cheerful songs, but I also love lyrical, deep compositions, to which you can feel sad and think," comments Zulfiya @chotchaeva888, - this track was written by a talented girl who performs under the pseudonym Cvetocek7 - she is a singer, author and cover singer. I have been following her on the social network for a long time, I admire her work, we periodically correspond, and now we are cooperating.
She created the song "I will not follow you" just for me and got to the point. I immediately liked the composition very much, so I put a lot of emotions into it, trying to convey to the audience a feeling of longing and sadness.
The atmosphere of the work was well conveyed by the picture - the clip, which we filmed with the director Nuradin Satyrov in Mineralnye Vody. Although the mood in the frame is not the most joyful - it matches the song, in fact, the shooting was fun and comfortable! Probably, this contributed to the fact that I easily got used to the role ...
I hope my listeners and viewers will like the novelty, and they will get to know me from a new side. I look forward to your comments and feedback! Happy viewing!"
Lyrics to Zulfiya Chotchayeva's song "I won't follow you"
Your own support
I'm my own friend
And you're not around
No one around
I lock my heart
Nobody could break in there
Call me, but I won't hear
I won't see your eyes again
And hugging you will be my dream
I will not follow you, I follow the longing
I know where you are waiting for me
And in your prayers you ask for me at night
You think that you will find me
And I disappeared with the ends
You smile, because it suits you
How many wounds my wounds won't heal
But only when I met I lost you
Thought our love is forever
I dreamed, I prayed for you
But inside me suddenly everything shattered
And hugging you will be my dream
I will not follow you, I follow the longing
I know where you are waiting for me
And in your prayers you ask for me at night
You think that you will find me
And I disappeared with the ends
I know where you are waiting for me
And in your prayers you ask for me at night
You think that you will find me
And I disappeared with the ends