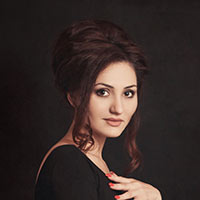 Name: Tsarikakeva Albina Anatolyevna
Date of Birth: November 16 1986 city
Place of Birth: Kostroma region
Education: higher (GITIS, specialty "Director")
Musical education: not finished
Start a music career: November 1997, XNUMX
Albums: "Badola", "I love", "Broken sky", "Dzoris"
Life motto: "Virtue!"
A. Tsarikayeva: "Music for me is a part of my life. My feelings, emotions ... It helps me to cheer up, or vice versa calm down. I like that with my creativity I can touch the hearts of people and give them positive emotions and joy. From this I get a huge charge and positive. Through music, I can tell about my feelings, love, experiences ... And it helps me. "
DOWNLOAD SONGS ALBINA TSARIKAEVOY
The long-awaited video premiere! Today, the popular ethnic instrumental musician Arthur Gongapsh @arturgongapsh, with the assistance of Sound-M @zvukm and Kavkaz Music @kavkazmusictv, presented a clip - "Ne daeh ....