Beautiful, soulful composition called "IREI" performed by Sultana Khazhiroko came out today!
Listen and download the song "IREI" by Sultan Khazhiroko
As the artist emphasizes, for him, as a music author and performer, and for the poetess Zarina Kanukova, who wrote the words, this project is a kind of experiment, because the single "IREI" is non-standard in its style for national music.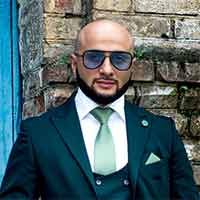 "This is a kind of R & B with a trap beat and bass," says Sultan, "I have long wanted to record several songs in that direction. Even when I was working on the single "Waziricz Syzykhueyr", I set myself this task, but only now I started its execution.
The word "irey" in the context of the expression literally translates from the Kabardian language as "let it belong. In the song it is sung: "let the tears belong to the sky, let the happiness belong to the soul, only whose now are you and whose are I now ...". Beautiful words that reflect deep emotions and make you think, remember something, dream about something ...
I really hope that listeners will appreciate this novelty and such music will find its listener! So wait for the continuation. "
We invite you to listen and download the song "IREI" right now!