Islam Satyrov will present the culture of the Nogai ethnos in Kazakhstan
"Nomad Way" is a festival of nomadic culture, organized by The Spirit of Tengri and the Ministry of Culture and Sports of the Republic of Kazakhstan, which will be held as part of the celebration of the Astana 20 anniversary.
The 2nd International Music Festival will begin in Astana on June 22, and end on 24. Its main goal is to preserve the heritage and popularize the culture of nomadic peoples.
This year, for the first time among the nineteen participants in the Nomad Way project, the artist of the sound publishing house Zvuk-M will perform for the first time. Islam Satyrov. In front of a large audience, he will present the Nogai culture with its rich history and ethnicity. Traditionally, the tracks that Islam will perform will combine European melody and old Nogai musical styles.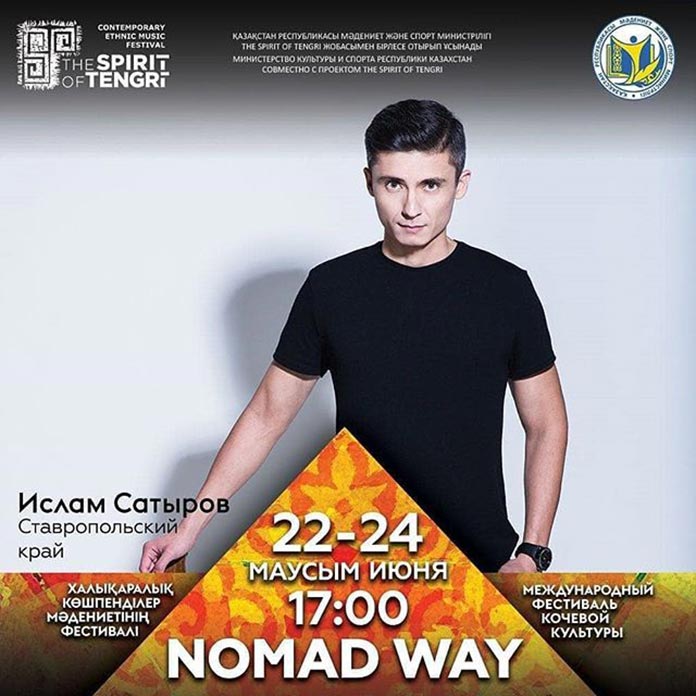 "I will perform both historical and patriotic compositions and love lyrics," Islam commented, "I hope to surprise the audience and show them the diversity of folk music in modern processing, which can be perfectly performed in ethno-pop and ethno-rock styles ".
Guests of the festival are waiting for performances from Kazakhstan, Russia, Kyrgyzstan, Uzbekistan, Tajikistan, Hungary, Turkey, Estonia and the United States, singing in the genre of ethno-world.
The "Nomad Way" will be held in the amphitheater on the Esil River Embankment. Start in 17: 00,
Free admission.