A new composition of a Caucasian artist came out Azamata Zakuraeva @azamat_zakuraev - "KyzdekIue", whose name is translated from the Kabardian language means "Marry me."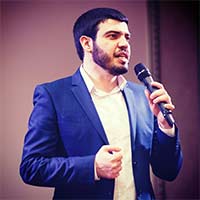 "The single sings about how a guy calls a girl to marry, sincerely expressing his deepest feelings. This is a folk song. I always liked it, and when we did it in a new processing, we just added a little more dynamics, leaving the foundation for a classic sound.
I am a big fan of Adyghe folklore and ethnic music, and this is one of those songs that I have long wanted to record. I'm glad that the idea came true and I'm sure that the listeners will also love this composition, which from the first notes catches with its sincerity ... ", the performer comments.
Listen and download the song "KyzdekIue" by Azamat Zakuraev
Lyrics of Azamat Zakuraev's KyzdekIue
Zanybzheeguishtyr dzhegum dzdozdoklue
Dizdeklue Jagur Adyghe Jaguke
Ueheinarine Ueheinarine
Kizdeklue, kyzdeklue si dahe tslyklu
Ahshekle Washam se ussefinti
Ыгlgyekle wahim si pser heslhyanken
Ueheinarine Ueheinarine
Kizdeklue, kyzdeklue si dahe tslyklu
Wigum il Schlaler Seraue Schlatham
We are sigu kabzar l'emuzh phueshlinti
Ueheinarine Ueheinarine
Kizdeklue, kyzdeklue si dahe tslyklu
Dizdeklue Jagur, Adyghe Jaguchi
Dee gur dgetlylari, de ner dgapleai
Ueheinarine Ueheinarine
Kizdeklue, kyzdeklue si dahe tslyklu
Ui unreadable sigur dahyehir
We are sigum ilir dawe brzeslen se
Ueheinarine Ueheinarine
Kizdeklue, kyzdeklue si dahe tslyklu
Gathepe bzuham wi tsler kyizzale
Wi nam sweetheaple sipsar kyolatyr
Ueheinarine Ueheinarine
Kizdeklue, kyzdeklue si dahe tslyklu
Zanybzheeguishtyr dzhegum dzdozdoklue
Dizdeklue Jagur Adyghe Jaguke
Ueheinarine Ueheinarine
Kizdeklue, kyzdeklue si dahe tslyklu